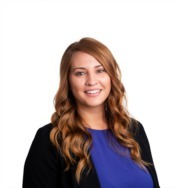 Kaitlyn hails all the way from California. She initially sought a nursing degree as a young adult, and even finished her pre-requisites, but something about real estate called to her. She moved to Lake Havasu, AZ in 2010 and began working for a large real estate team as their office manager. Kaitlyn realized her instincts about real estate were spot on as she moved up from managing the office to staging homes, and eventually getting her license and becoming the team's listing manager. During this time, she loved having the ability to learn about what her team's clients needed and how she could best get them to their goal. 
After moving to Florida and getting her real estate license, Kaitlyn found Robert Adams, Broker / Owner of Service Realty and immediately fit right in. She finally found a group of people who cared about their clients as much as she did and who took the responsibility of serving them seriously. Since then, Kaitlyn has become very comfortable guiding her clients through the transaction process and feels lucky to have a team of incredible agents who work together to ensure the best experience possible.
 When she's not selling real estate, she loves being outdoors. You might find her at the beach or enjoying a day in one of Florida's natural springs with her son and dog, Allman.